Culture of Clothing among Taiwan Aborigines: tradition, meaning, images. Saalih Lee. SMC publishing. Taipei. 1998. A comprehensive study of the textiles, clothing and accessories produced by Taiwan's aboriginal tribes. Profusely illustrated with colour photographs of the textiles in a museum context, supplemented with numerous historical field photographs of tribal people. Each section is devoted to a particular aboriginal group. In Chinese with English introduction and captions
Segawa's Illustrated Ethnography of Indigenous Formosan People: the Tsou. Yuasa Hiroshi. SMC publishing Taipei. 2000. A survey of the culture of an almost unknown tribe, the Tsou, of central Taiwan. Most of the black and white photographs were taken in the 1930s, before major changes overtook these people. Many of the illustrations are of traditional dress, which included animal skin tunics and feather headdresses. (Other parts of the study are devoted to agriculture, fishing, hunting and games). Altogether a rare and visually informative volume
Taiwan's Aboriginal Peoples.Taipei 2002. This fine publication is a rare photographic account of all ten of Taiwan's main aboriginal tribes. Most of the photographs are modern but a few older examples are included. These peoples, related to Pacific cultures, produce wonderful costumes which show influences from mainland China intermingled with a more ancient tradition similar to that of island Southeast Asia or even Northeast India. The tribes illustrated include the Atayal,Saisiat, Bunun, Thao, Tsou, Amis, Puyuma, Paiwan, Rukai and Tao (Yami), a seperate section being devoted to each. The photographs of people in costume and participating in ceremonies are both magnificent and atmospheric. English and Chinese text. (Much recommended)
Costume and Ornaments. Tibetan folk art series. Chongqing publishing house. 2001. A selection of outstanding photographs showing the dramatic stone, beeswax and metal ornaments worn by Tibetans of both pastoral and forest areas. (Also includes a section on religious dress). particularly useful in showing clothing and jewellery as worn, rather than in a museum context.
A Picture Album of China's Miao Costumes and Ornaments CIP. 2000. This vast volume is dedicated to the Miao people of southwest China, whose superb textile arts are documented in unparalled detail. I have yet to find another volume which has so many photographs of the Miao in their traditional dress. In addition, the book contains numerous illustrations of the textiles themselves and includes a parallel Chinese /English text - An outstanding publication, indispensable for anyone interested in the clothes and ornaments of this large ethnic group.
Lifestyles of China's Ethnic Minorities. Wu Yipin et al. Peacebook Company. Hongkong 1991. A huge collection of colour photographs, possibly taken in the 1980s, depicting life among China's diverse ethnic groups. All of the recognized minorities are briefly reviewed, with a selection of photographs on each. With a strong focus on traditional dress and festivals, this volume is a comprehensive and exciting introduction to these peoples and their traditions.
Headwear and Ornaments of Chinese Minorities.Chengdu. 1999. This large book covers all the recognised ethnic minorities of China. The huge variety of headdresses and ornaments found among groups from all areas of the country are displayed in fine colour drawings and photographs, a seperate section being devoted to each nationality. The book is wonderfuly colourful and beautifuly laid out. (In Chinese only)
The Dress and Costume of Minority Nationalities in the Western China.Chengdu. 1993. A photographic account in vivid images, of minority peoples mostly from southwest China all displaying the stunning traditional costumes for which this area has become famous. There is also brief coverage of other areas, notably Chinese Central Asia, but the main focus appears to be Yunnan and its neighbours. (Chinese captions with contents in English, much Recommended)
Chinese National Costume Culture.Yuan Yang 1998. This beautiful volume concentrates on the costumes and accessories of China's minority peoples.It is a stunning photographic journey which opens with a brief survey of the main cultural regions, after which each chapter looks at a particular aspect of adornment eg ear ornaments, waist decoration, headdress etc with concluding sections on tattooing and masks.The majority of the approx 800 high quality photographs, are of minority people in traditional dress and were taken in the field. There are also a few examples of textiles and other items in a museum context. (Most photos in colour,Chinese text and captions, much recommended)
Traditional Culture of Li Ethnic Group.Wang Xueping. Xinhua Publishing House 2001. The Li people who inhabit Hainan Island, off the coast of China, comprise a number of tribes or divisions. They produce highly elaborate woven textiles, mostly in the form of straight skirts and tunics, a tradition which in many cases complements beautifully tattooed skin: -Such traditions as these have possible roots in the ancient cultures of Southeast Asia. This unique volume, contains an overview of each Li group with many photographs of costumes and accessories - the latter including magnificently large metal ear rings and hair pins. There are also chapters on cultural patterns in general and a section on textile designs. The first and possibly only book to date, on the Li people and their rapidly vanishing culture, highly illustrated with photographs possibly taken in the 1980s. (Chinese and English text)
Silver Art: Costumes of China's Ethnic Minorities.Yuan Yang. Hong Kong Heritage Museum/National Costume Museum of Beijing.2001. Slim catalogue of an exhibition at the Hong Kong Heritage Museum, of silver ornaments worn by minority groups from all regions of China. The photographs include many items of silver eg hair decorations and necklaces etc displayed on their own, together with a selection of field photographs of minority people in costume, most of the latter of which appear in the volume "Chinese National Costume Culture" (see above)
Costumes and Accessories of Chinese Minorities.National Museum of History. Taiwan.2000. This magnificent volume showcases an extraordinary collection of mostly older costumes and textiles from the Manchu,Dong and Miao peoples,together with examples from other groups mostly from the Southwest. There is a concluding section of costumes modelled in the studio together with detailed descriptions of the costume traditions of the featured groups.(Chinese and English text)
China's Minority Peoples. China Pictorial Publishing House. 1995. This slim volume, an ideal visual introduction to China's minority groups, is packed with colour photographs, mostly showing dress and festivals. Each section is dedicated to a particular ethnic group.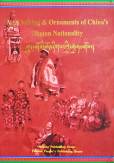 The Clothing and Ornaments of China's Tibetan Nationality.Wang Mianzhi et al. Beijing Publishing house/Tibetan Peoples Publishing House. 2002. A magnificent photographic folio dedicated to clothing traditions, both in Tibet itself and the Tibetan outlying regions, with an emphasis on the spectacular festival dress of the men and women of both nomads and settled groups. This volume also contains rare photographs of unrecognised tribal minorities such as the Khampa, Baima and others of the eastern Tibetan borderlands. A colourful survey. Much recommended.
The clothes and Ornaments of Yunnan Ethnic Groups.CIP 1989. This small book is a detailed look at the ethnic variety of Yunnan province in China's southwest. It contains many good quality field photographs of such peoples as the Yao, Hani, Wa, Yi, and many others, all wearing their traditional clothing and adornments. The bulk of the text is in Chinese with a list of contents in English.
Children of the Jade Dragon: The Naxi of Lijiang and their Mountain Neighbous the Yi.People and Cultures of Southeast Asia. Jim Goodman. Teakhouse. 1997.This volume focuses on the Naxi in and around their centre of Lijiang and a nearby branch of the Yi people. Beautifully illustrated with field photographs showing daily life and clothing.
The Dong People of China: A Hidden Civilization.Enjoying Asia Books Gail Rossi. Hagley & Hoyle. Singapore. no date. A lovely photographic account of the Dong ethnic group of southwest China, focusing on the clothing, jewellery, festivals and architecture of this "hidden civilization"
Clothing and Ornaments of China's Miao People.Cultural Palace of Nationalties. Beijing.1985.This volume focuses on the vibrant costume traditions found among the Miao people of southwest China. It is well illustrated with drawings and photographs and contains many fine examples of textiles showing both the garments themselves and close up details.
The Costumes and Adornment of Chinese Yi Nationality Picture Album. Shi Songshan. Beijing Arts and Crafts Publishing House. Beijing. 1990. Similar to the above volume on the Miao, this publication showcases the extraordinary costumes and jewellery of the Yi people, also of southwest China. It illustrates the considerable differences in style that occur across their geographic range, possibly resulting from contact with other groups. Photographs include clothing examples, field photographs and dressed models. In all, a comprehensive account of the adornment of this widespread and varied people
Rainbow of the Kangba. Festival Costumes and Adornment of the Tibetan Kangba People.Beijing.2001.This exciting volume is absolutely crammed with vivid photographs of the festival clothes and jewellery as worn by the Kangba (Kham) people of the eastern borderlands of Tibet. This dramatic adornment composed of beeswax, amber and semi precious stones is worn in profusion on special occasions by these people in "the land far from Lhasa", men being as much adorned as the women. An altogether vibrant look at this Tibetan tribe, as far as I am aware, still little known in the west.
Snowy mountains and Grasslands: Travels in Northwestern Sichuan. Huang Baoshan. Foreign Languages Press.Beijing. 1990. An account of the photographer's travels in Sichuan, where he documented the Tibetan and Qiang nationalities, living in remote and rugged terrain in this little known area of China. Contains many colour photographs of daily life and traditional dress.
Mountain patterns: the Survival of Nuosu Culture in China. Steven Harrell, Bamo Qubumo, Ma Erzi. University of Washington Press. 2000 The Nuosu, a branch of the Yi people are documented in this slim volume, concentrating on textiles and other aspects of material culture. Contains a detailed text, illustrated with black & white photographs, supplemented with a central section of colour plates, many showing traditional dress being worn.
Women's Culture Series: Nationalities in Yunnan.Yunnan Education Publishing House. 1995. A series of small books, two of which are illustrated here, each dedicated to an ethnic group in Yunnan, China. Concentrating primarily on women's issues, each volume includes a description of women's traditional dress. An introductory section of approximately 35 colour field photographs shows the tribal clothing, textiles and daily activities of each nationality. There are about 26 volumes in this series of which I have 23 in my collection. (Please contact me for further information).
Miao Zhuang.Zeng Xianyang. Guizhou Pictorial Publishing House.1992 This Chinese publication features a collection of fine field photographs by Zeng Xianyang which showcase the very best of Miao costume arts from Guizhou province.(southwest China) The Miao are justly famous for their magnificent costumes and silver ornaments which are documented so beautifuly here. Not only is the womens's traditional dress presented, but also that of the men which is less commonly seen today. A real treasure.
Art of Guangxi Minorities Customs: Colourful Costumes.2 vols. Lu Shengzhong. Guangxi. 2001 A Chinese publication packed with high quality photographs of the dress and textile traditions of tribal people living in Guangxi Province. (Southeast China) Covers such groups as the Miao, a subgroup of the Yi and other nationalities. A major highlight is the many photographs of the Yao groups who are known for their outstanding textiles and unusual headdresses. The first volume features photographs of people wearing traditional costume, the second volume contains magnificent photographs of the textiles themselves, both full garments and close up details being displayed.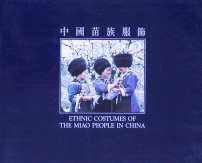 Ethnic Costumes of the Miao People in China.Hong Kong Museum of History Published by the Urban Council 1985. This slim volume is an attractive survey of Miao arts and crafts and covers embroidery, stitchwork, weaving, applique, batik and silver ornaments as well as providing a summary of the various costume styles and their distribution. Fully illustrated with artwork and photographs of both the textiles themselves and costumes being worn.
The Chinese National Culture of Costume and Adornment.Wei Ronghui. China Textile Press. Beijing 1992. This beautiful volume covers the adornment arts of each of China's recognised nationalities. The fine photographs which dominate the book, document both costumes and textiles as worn and by themselves. The text, (in Chinese and English) gives brief information on each group. Altogether a vivid account of these astonishingly colourful traditions.
China's Ethnic Minorities.Culture of China Editorial Board. Foreign Languages Press.Beijing.2003. This small book documents China's minorities in a collection of vivid colour photographs accompanied by a brief text description of each group. A good first book for anyone wishing to know about the costumes and traditions of these peoples.
Cream of Yunling -A Photo Odessey of Yunnan Ethnic Groups.Zhang Songquan. Yunnan Art Publishing House.1998. This beautiful book surveys all of Yunnan's major tribal groupings in a collection of fine photographs by Zhang Songquan, the traditional costumes of such groups as the Lahu, Lisu, Wa,and Hani, to name a few,being showcased in vivid colour. A particular highlight is the coverage of the small and little known Dulong people who live in a remote valley on the Burmese border.
Undiscovered China.Catherine Bourzat. Photography Philippe Fatin. Hachette Illustrated. 2004. This beautiful book focuses on the remote region of Guizhou in southwestern China and is filled with photographs in colour and black and white documenting the traditional cultures of the Miao and Dong peoples with a particular emphasis on their colourful dress. The wild and rugged environment in which they live is also atmospherically portrayed. The extensive text and accompanying photographs follow the seasons and show the activities and festivals taking place thoughout the year. Stunning!
The Beauty of Taiwanese Aboriginal Clothing.National Museum of History. Taipei.2001.This book covers the tribal people of Taiwan with a section devoted to each group. Fine examples of costumes and textiles are shown, together with detailed closeups of individual pieces. Old black and white field photographs help put the costumes into their cultural context (Chinese text with brief captions in English)